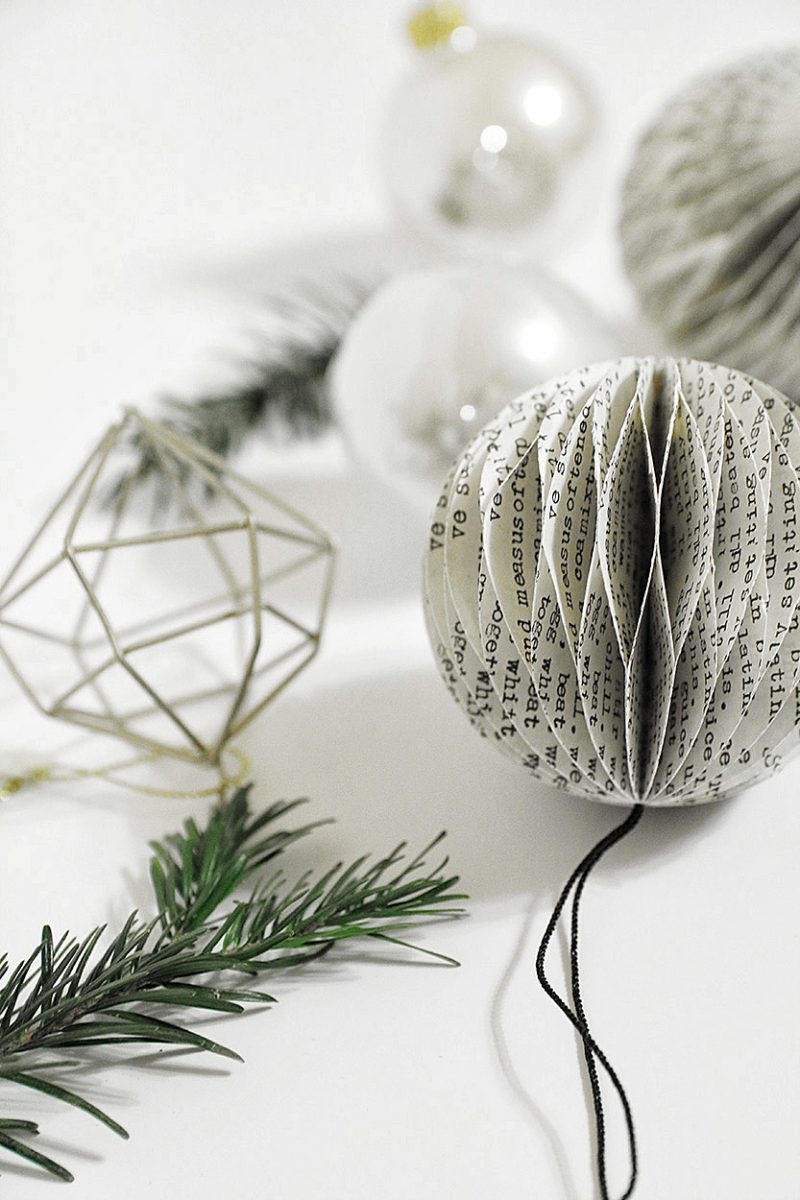 I could tell you that the key to a happy holiday season is to do less in all aspects. Less or no gifts, less decoration, less events and parties.
I could, but I won't. For sure, in a way, it's true. Because they are not the most important things about Christmas.
It's family. Joy. Laughter. Making others happy. Slowing down. Good food. Music. Making memories. Playing games. Watching silly Christmas movies you've seen a 1000 times. Admiring the Christmas lights in the dark. Reading a good book. Going out with friends.
But I cannot say don't go all out if you'd like to. Because it wouldn't be completely me.
I love Christmas. I love doing all the traditional, Christmas cliché things. From mid-November, I count down the days. I love decorating, creating a nice ambience. I love the Christmas lights in a city. I love the giant trees. I love the smells. I love blasting Christmas music for a month. I love giving thoughtful gifts and gift-shopping. I even love Christmas baking and I'm not a Nigella-type, to say the least.
For sure, I don't love the holiday crowds and the shopping craze. I don't love the fact that money and shopping took such a central focus. Or that a lot of people find Christmas more stressful than joyful.
But I firmly think it is possible to go all out, to be enthusiastic, and embrace all that is good about this season, and not let it become a source of stress, distress, and exhaustion.
For me, it's a question of balance. I let the Christmas spirit sweep me away, but I still maintain some control. It's a matter of smart organizing, a positive attitude, some simplifying, and a focus on what's really important to us about Christmas.
How to find your Christmas balance
---
Create a master holiday to do list //
Every year at the end of November, I sit down and put together my Christmas to do list. If it sounds too over-the-top, well, maybe it is. But it helps me a lot to space out my tasks, to plan strategically, to prep in small steps, and to avoid the stores in the heights of the Christmas craze. Here are some of the tasks that go onto my holiday checklist (a lot of them just have to be done once, with minimal refreshments/updates each year):
+ Write the master gift list – who gets what, for how much, where can I buy it
+ Put together a Christmas music playlist
+ Download some of my favorite Christmas movies
+ Plan this year's wrapping theme – buy the wrapping paper and accessories
+ Review existing decoration – make a list of things to buy (if any)
+ Decorate the flat
+ Make the Christmas wreath and other DIY decorations
+ List of people getting a Christmas email (no cards from me, I'm all for being paperfree)
+ Recipes to make
+ Christmas menu
+ Buy tickets to Christmas plays/ballet/programs
And so on.
You can also plan your calendar the same way. Don't just put in your social commitments – plan fun programs as well, like going to the Christmas market or having a mulled wine night with friends. Scheduling fun activities will definitely lower the stress factor.
I really think planning a little ahead can make all the difference between a calm and stressful holiday season.
Draw some gift giving boundaries //
Gift giving can be a serious stress this time of a year, which I find, frankly, very sad. After all, a gift should be about joy: making someone happy AND making ourselves happy anticipating and appreciating the other's joy.
Here are a couple of things you can do to simplify gift giving:
+ Don't spend what you don't have. Set a budget and stick to it. Going into debt for Christmas is not one tradition to keep.
+ Discuss gift giving rules with friends and family. Agree on some boundaries: whether it's that only kids get a present, whether it's a limit on the number of gifts/person, or the gift budget/person, the best is to discuss in advance and come to a compromise that works for everyone.
+ No need to give gifts to everyone. Gifts should be about affection and love, and not an obligation. We only exchange gifts with my very immediate family members. If you'd like to get something lovely for friends or someone else, handmade, and preferably edible, gifts are a good way to be nice, and still stay within reasonable financial limits.
+ Give experiences instead of objects: a fun program, a short weekend trip, a workshop can be some of the best presents ever. They help create memories together and do not add another unnecessary object to find a place for later.
+ Put some thought into it: In my experience, gift giving becomes stressful when we have no idea what to give and just run around frantically hoping something will jump at us. You're also more likely to spend more under pressure. For me, the first and most important part of gift giving is just sitting down and really think about what would make my loved ones happy. Usually, it's either something I know they need (practical approach) or something that I know they would really, really love to get, but maybe wouldn't buy themselves (the luxury approach). BTW, I use luxury in this case to refer to something special, not to a monetary value.
Don't do everything by yourself – delegate //
I feel a lot of people, but especially women are guilty of this one. We play the role of shopper, decorator, cook, cleaner, entertainer, hostess, because…? We're better organizers? We're better time mangers? We know everything's place? We're supposed to? No else does it? It shouldn't be that way – don't be the only one to carry everything.
Let go of unrealistic expectations //
The festive lighting will not look exactly like Kevin's house in Home Alone. My Christmas dessert will be flatter and more crooked than Martha Stewart's. My wrapping bow will not have 2 layers. My Christmas tree may not be totally symmetric. I might forget something.
And it will still be OK, and it will still be a wonderful Christmas.
It's OK to say NO and cut back //
Stop for a minute and think back on past holiday seasons. What were your favorite and least favorite moments? What really caused you stress? How could it have been better handled?
Find your stress sources and deal with them now. Overwhelmed with parties? Pick just one per week. Too many people on the gift list? Narrow it down. Stressed out by crowds? Shop online or plan ahead and avoid weekends. Your grandmother's recipe takes too long to make? Find a new recipe. Ditching out a tradition doesn't wipe out the childhood memories and experiences attached, and you're allowed to make new traditions.
Decide what you will say NO to this year in order to enjoy the rest.
Simplify your menu //
Unless you're a master chef, this is really not the time to put pressure on yourself and try to create a Michelin-star, 7-dish menu. Simple dishes can be just as delicious (and beautiful or elaborate) as something that features ingredients you have to get in 3 different specialty stores.
Plan your Christmas menu. Plan some dishes you can even prepare ahead. Share the workload; even if you're the one throwing the Christmas dinner, your guests could be responsible for salad or dessert. And do not feel like you need to come up with new menus every single year – just create one Christmas menu and a make a tradition out of it.
Turn chores into fun programs //
Just because we have to do something, it doesn't mean it cannot be fun. Wrap presents while watching a Christmas movie. Decorate the house with your family while listening to cheesy Christmas songs. Throw a Christmas cookie baking party. Get together with friends and make some homemade gifts. Go to a Christmas market in between shopping trips.
Think of others //
For me, it's really important to stop sometimes and put the Christmas madness into perspective. While not finding the perfect shade of ribbon might seem like a tragedy in the moment, if you realize how lucky you are to have those kinds of problems, it will be much easier to slow down. Try to think of others a little and try to help if you can. You can put together gifts for children and families in need, donate food, money, or volunteer. Find local organizations, campaigns, and charities and find ways to help others have a little merrier Christmas.
Prepare for next Christmas //
The only thing I ever DIY is a Christmas wreath. And for that, I need a lot of tiny knickknacks for decoration. For years, I spent serious amount of money on buying newer and newer supplies, because the Christmas spirit swept me away and I shopped before actually bringing out my stash from the storage room and looking through what I already had. So I ended up with a lot of duplicates.
Never again.
2 years ago, I created an excel workbook titled "My Christmas register". Before putting away all my Christmas decoration, I put every single item into the spreadsheet, and next year, before everything else, I look at the list to see what I have to replace or buy.
Putting away everything neatly, decluttering anything you haven't used that year ensures that Christmas organizing will go smoothly year after year.
Know what matters to you //
It's OK to be enthusiastic about Christmas, it's not OK to let it totally take control of your life. Decide what aspects are important to you. I find making Christmas decoration fun. It's not a source of stress for me, but if it is to you, then please, let it go. For example, I probably won't be making any gingerbread houses this year, because I've done it once, and while it was pretty at the end, it took way too long and I wasn't enjoying it that much. Ergo, no gingerbread houses for me this year.
If you love wrapping, go for it. If you don't find it important, don't look at the elaborate Christmas gift-wraps with a pang of anxiety. If you want to do gift-giving, do, but if you don't, that's fine as well.
It's really about finding your balance and being comfortable with it.
SaveSave
SaveSave
SaveSaveSaveSave
SaveSave
SaveSave
SaveSave
SaveSave
SaveSave
SaveSave
SaveSave